The Webb Fund
The Webb Fund originally started as the Annual Fund in 1962, and it is the largest and most important fundraising endeavor on campus each year.
Your charitable support of the Webb Fund helps Webb provide one of the finest educational opportunities available in the southeast.
The array of opportunities available to a Webb student is impressive, but the cost of providing such an excellent educational experience exceed the revenues provided by tuition. The Webb Fund helps bridge that gap by supplementing tuition revenue in order to meet the budgeted expenses each year.
When you give to the Webb Fund, you touch every aspect of school life – academics, athletics, the arts, extracurricular programs, technology, and facilities. Not a day goes by that our students and teachers do not benefit from the support of the Webb Fund. The support of the Webb Fund helps school leadership say yes to new programs, ideas, and annual goals that would not happen without the necessary resources.
An independent school like Webb has many fewer supporters than a university or a large charity. Because the number who give is small but the need is large, every gift counts more. This reasoning leads many families to make their children's school one of their family's philanthropic priorities. They know their gifts are an investment that truly pays off.
Donor Stories: Jonathan '93 & Betsy Johnson, Parents of Hank '23 & Baxter '26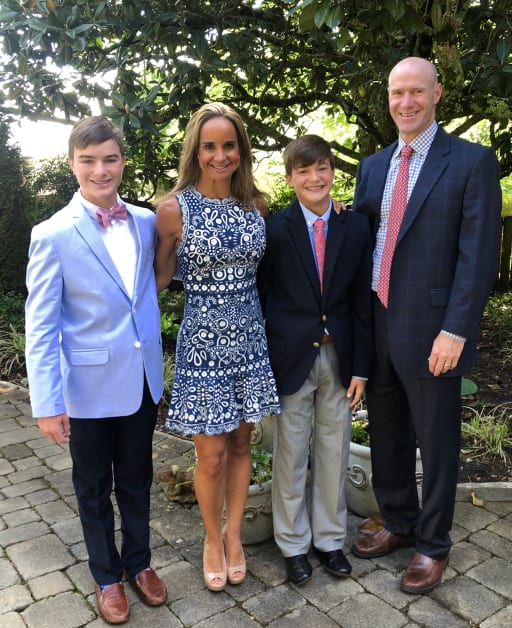 Johnathan and Betsy have always supported the Webb Fund with annual donations.
" As parents, we see every day the influence that Webb has on our children. Webb is providing them with rigorous academics paired with caring teachers and leadership opportunities that are not available at any other school in East Tennessee. We know that our gifts to the Webb Fund each year are put to good use to make the Webb experience unsurpassed for our children."
When Jonathan Johnson was a senior at Webb in 1993, he was a person on the go. Academics were a priority, but he also made time for friendships, athletics and to prepare to attend the United States Military Academy at West Point. After his military service concluded, Jonathan and Betsy came back to Knoxville to raise their family. Their sons, Hank and Baxter, both began at Webb in the lower school.
Jonathan added, "I made lifelong friendships when I was a student at Webb, I am so glad to see Webb fostering those relationship in our own children through a multitude of academic, athletic and extracurricular activities. Supporting the Webb Fund helps the school succeed in all of these areas. "
Johnathan and Betsy's support of the Webb Fund is in following a family tradition of investing in Webb School. Johnathan's parents Joe and Judy Johnson established the Don Tarvin Award in 1995 through an endowment gift to Webb. The Don Tarvin Award is named in honor of Donald L. Tarvin – teacher, coach, plant manager, camp director, friend, and counselor to generations of Webb students. The award is given annually to members of the faculty and staff, who in their daily relationships with students, parents, peers, and the community exemplify the qualities of moral, ethical and spiritual leadership that Webb School seeks to impart to its students.
If you would like to learn more about supporting the Webb Fund Please contact Hugh Nystrom, Director of Development or Click here to make your gift.
For more information, please contact:
Hugh Nystrom
Director of Development
Webb School of Knoxville
865-291-3837
hugh.nystrom@webbschool.org